Ruperto Pizarro Leyton is principal of the Edmundo Vidal Cárdenas school in the commune of Vicuña (Coquimbo region), which is part of the We Learn programme, which has stood out for an innovative project in which art, technology, music and physical education classes are taught in English.
Since December 2012, Ruperto Pizarro Leyton has been principal of the Edmundo Vidal Cárdenas school in the town of Peralillo in the commune of Vicuña (Coquimbo region). When he took office, he worked with his team of teachers, education assistants and parents to determine what the school's hallmark should be. After the analysis, they realised that Vicuña, being a highly touristic area, required people who spoke English to welcome English-speaking foreigners.
Today the school has an innovative and challenging project which aims to improve the English language skills of the children and young people. The art, technology, music and physical education classes are taught with two teachers in the classroom: the subject specialist who is in charge of planning the lessons and an English teacher who is in charge of conducting them in front of the class.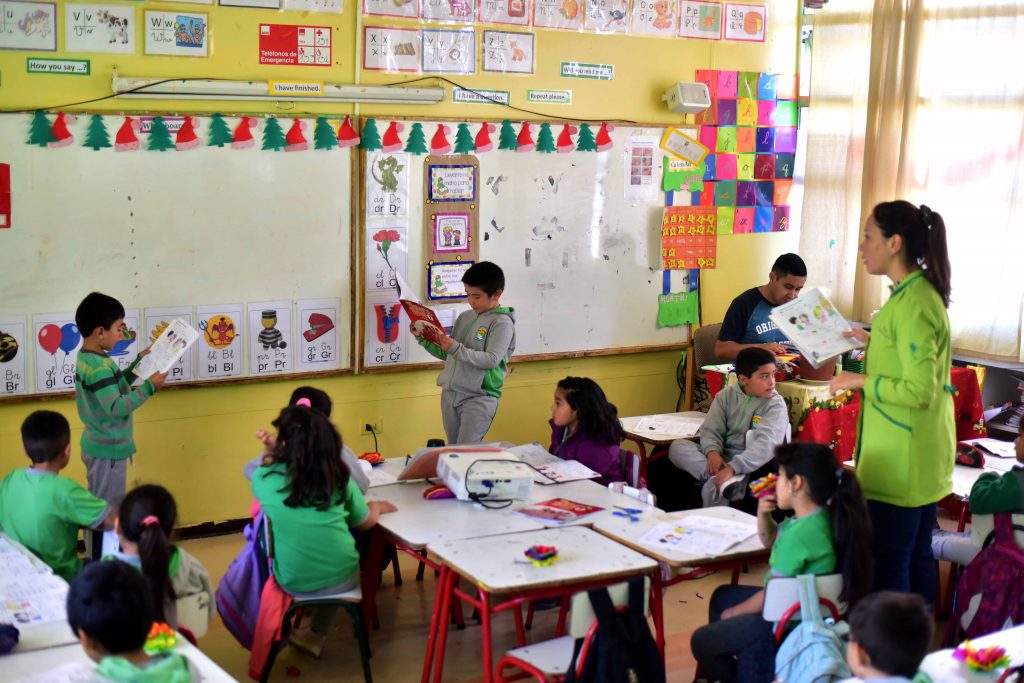 THE PROJECT 
English is more universal than Spanish, hence the contextual need for tourism. And as tourism is increasing every day, bilingualism is a necessity in this area. When I arrived at the school, many of our children wanted to be seasonal agricultural workers. And that's fine, it's honest work. But when do they fulfil their dreams?
When I studied at the University of Salamanca in Spain, I had the opportunity to visit quite a few educational establishments. There I saw a school that was 60% bilingual and I started to investigate how they had done it and I realised that there was an articulation between the subject teacher and the English teacher. 
In March 2013, we started to implement at the school that other subjects were taught in English. The teachers were impressed, they found it very interesting and the truth is that they took it on with a lot of energy. There was encouragement, willingness, will... everything that these teachers have, and every day they surprise me with their vocation and their desire for these children to achieve better learning. 
At first the students found it strange that there were two teachers in the classroom and then when the class started in English, they said: "but I don't understand anything". The interesting thing was that, as the classes went on, the students were able to understand the teachers and the instructions better, because we arranged for the instructions in English to be standardised. Then, they followed instructions and actions that were similar in some subjects like art, physical education or music. 
MORE OPPORTUNITIES FOR ENGLISH LANGUAGE DEVELOPMENT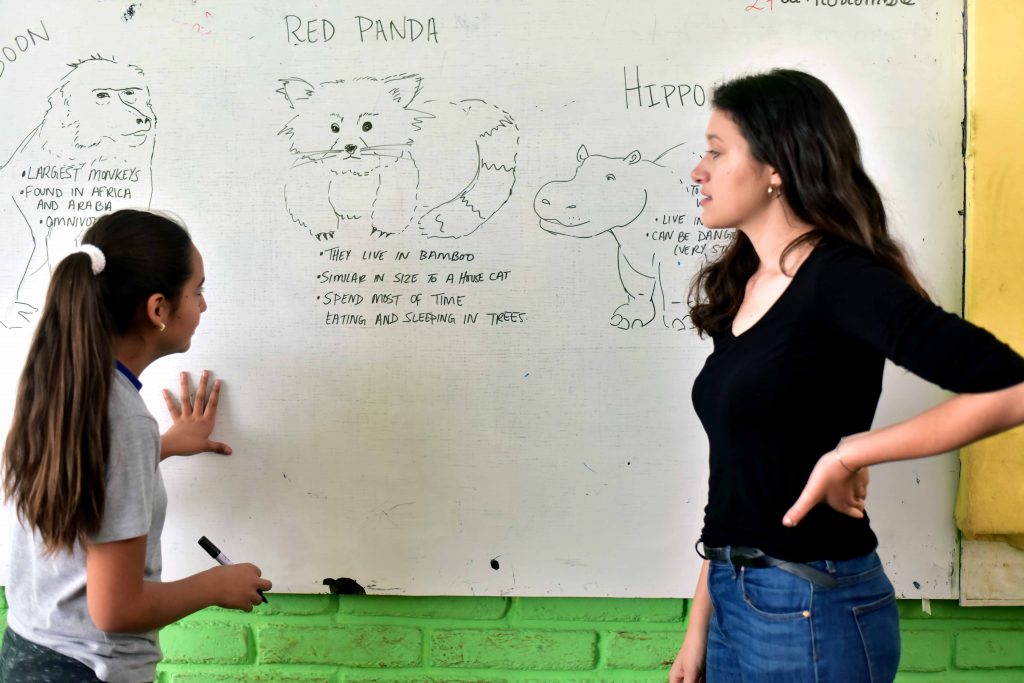 In Chile, the teaching of English is compulsory only from 5th grade but in our school we have English as a subject (not as a workshop) from 1st grade onwards thanks to the curricula of the Fundación Educacional Oportunidad.
Working with the foundation has been fundamental because of what we have done with the We Learn and We Learn Access programmes and because of the networking, training, feedback, continuous improvement and strategies. I feel that this is fundamental, we could hardly see results if we were not working alongside and following the advice of those who make up the foundation.
Children in pre-kindergarten and kindergarten have 8 hours of English per week, but children from 1st to 6th grade have around 12 or 13 hours per week in different subjects, not only English. From 7th grade to 4th grade - which starts next year - they have 18 hours of English per week.
Studying in a school where you are taught so many hours of English, in this country, is a privilege for some. Therefore, from there comes a personal and academic need to be able to help children and change, in some way, their life stories.
THERE WE GO!
Our goal is to have 60% of the classes in English. We are thinking of leaving out maths, language, science and history, but the rest of the subjects will be in English. That is the dream, the desire of what we want to achieve in this school.
With this project I am repaying my debt to society and I feel it as my own. If you ask me about one of the 427 students at the school, I know their history, their strengths and the great challenges they face today.
The fact that students acquire a second language will allow them to have gigantic opportunities and tomorrow they can even think about studying abroad, think about postgraduate degrees, masters, doctorates and perhaps many other things in other places outside of Chile.
By mastering this language and talking to foreign people, the children's self-esteem grows, they become more confident, they think and see life in a different way. They also realise that this doesn't happen just anywhere and that not everyone is in this school in Peralillo.