This initiative is a pedagogical practice that brings students closer to their culture and provides an opportunity to rethink distance learning.
On 31 May, Puerto Natales turned 109 years old and for the Santiago Bueras School and its 330 students, it has become a tradition to plan activities to celebrate their city's anniversary a month in advance. Due to the health crisis and the closure of their classrooms, the school knew that this year they faced a major challenge: to reinvent themselves and create a cross-cutting proposal that could be carried out at home and that would involve the subjects around a common theme.
In order to unify objectives and as a first approach to Project Based Learning (PBL), Natales from my window was implemented , a pedagogical practice that brings students closer to their culture and provides the opportunity to rethink distance classes.
"We were implementing what we had planned and suddenly we found ourselves in this situation," says Eloísa Morales, the school's director. "It has been complicated not only to set up a virtual school, but also to motivate the children to join the classes, especially because we have had to work a lot with the students, parents and colleagues.
The head of UTP Pamela Asencio says that, although they feel they have been able to move forward and assume the context of crisis in a good way, it has not been easy this new way of being in contact with the students: "The school has been in charge of promoting actions to be more connected, but Puerto Natales is a family town, where it is difficult to be closed".. She adds: "Our students are also part of our family and not being able to be with them every day, hug them, and having to settle for seeing them through the computer, has been very complex".
"In February, my children were very excited because they were going to start classes," says María Cecilia Poblete, a parent of Agustina, who is in first grade. "They were making an X on the calendar to see how many days they had left to go back, and after a week our world fell apart when we found out that classes had to be suspended!
"We were in the middle of planning, the deadline was approaching, when this started and we had to practically start all over again," says José Legue, an English teacher.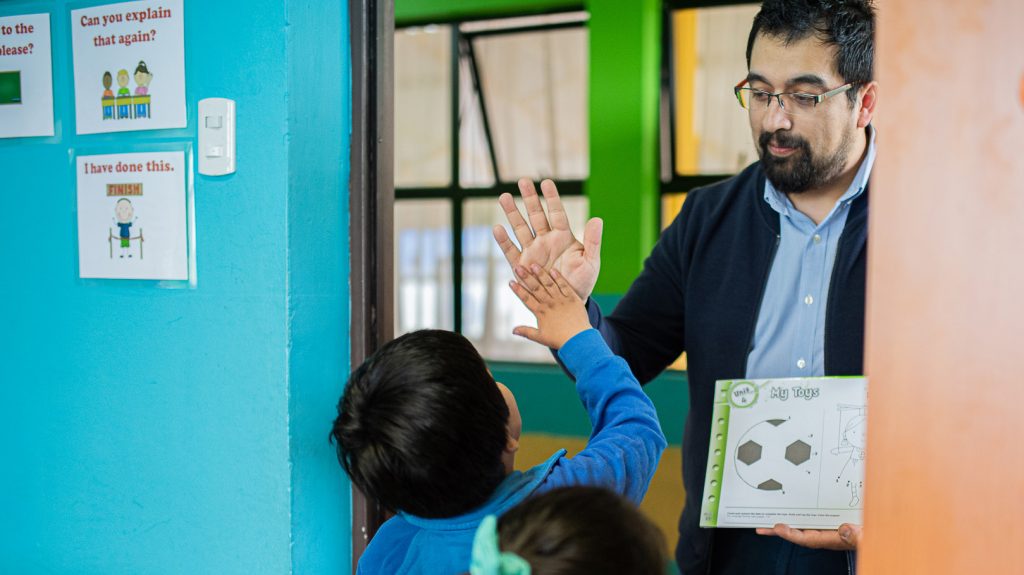 Pablo Torres, also an English teacher, explains that as soon as they knew they had to implement a new teaching model, everything indicated that they had to find a way to reinvent themselves: "We understood that in this context the main thing was to see how we could reach the students and strengthen teamwork to unite ideas, strategies and maintain communication. But we also knew that it was equally important not to saturate the children with information because of the emotional issue.
Agustina was shocked to learn that she could not go to school: "I love school and I thought we would never go back. We do a lot of fun things there and my friends are there too. The quarantine makes me sad because I can only see them on the computer.
Quickly, during the first part of the crisis, the school opted to distribute guides through parents via email and WhatsApp, while in parallel they tested Zoom for online meetings, the limitation of which was that they could only use the programme for 45 minutes for virtual classes. "We had to have a modality in which we could stay connected for longer," explains Eloísa Morales. Meanwhile, teacher José Legue says of those first weeks: "Zoom allowed us to do precise, very short things, in which the interaction could not last very long. We had to focus on emotion and there wasn't enough time to cover other content.
When the two-week holiday break came in April, the school decided to go deeper into Classroom on the recommendation of the Ministry of Education and incorporate it into their modality, mainly because it allowed them to have direct feedback with the students for a longer period of time with Meet. " Working groups were formed in the school and we started training," says Pamela Asencio. "The main objective was to reach the students with classes where they could see each other and talk to each other on the spot, but also to do activities where they could ask questions on the spot and make progress on the learning objectives together with the teachers.
"In three days we set up the platform," says Eloísa Morales, "we made 330 emails, we included the teachers' emails, we set up the virtual classrooms and we learned many things along the way, so that when we came back from the break we had no major difficulties or confusion in coordinating the work.
Another recommendation of the Ministry of Education, through the Education Quality Agency, was to unify the objectives of the different subjects in terms of language, mathematics, history and science in a school-level project. It was in this way that the approaching anniversary date of the city became a motivation to test collaborative work in times of crisis and to create a strategy that was up to the challenge.
"Natales from my window was our first approach to PBL (Project Based Learning, a model that allows students to get involved and be the protagonists of their own learning). Today we are 80% connected and we are working on the implementation of a new project", says Eloísa Morales.says Eloísa Morales.
Until then, explains teacher Pablo Torres, to commemorate the anniversary of the city, the courses carried out their activities in isolation and then an exhibition was held where the work was displayed. "This context led us to rethink this and see how we could implement this activity together, unifying the objectives and the work between teachers, but from home and in a collaborative way".
"It was called Natales from my window because it was from the space where our children could see their city," says Pamela Asencio.
Considering this idea, the English teachers implemented for their subject Natales on the Rocks, an activity where the students painted on a stone their most significant place in the city and recorded a capsule in English exposing their work. The locals call us "tirapiedras" (stone throwers) because of a sporting event many years ago and that was the origin of the activity we implemented with teacher Pablo".José Legue explains.
"We found children who were very talented in painting and drawing, but we were also surprised by the enthusiasm in the videos, students who are not afraid to express themselves in English, nor are they afraid of the camera, and here again I would like to emphasise the support of the parents," adds Pablo Torres.
This initiative is part of the document "Educational Communities: 6 stories of innovation in times of pandemic" which you can download in full at this link: https: //bit.ly/2DGXlJ6